Wake up at 4:00 a.m? And this while your vacation? Good idea! Because as is well known, the sun doesn't care about the times when tourists like to get up. Sunrise is between 5 a.m. and 6 a.m. In my group in Florence 2017 there were a few guests who absolutely wanted to have this wonderful experience during their vacation.
So we had a meeting point in the lobby at 4:30 a.m. To my surprise, we were already a group of seven people. Everyone is overslept. We prepared breakfast the day before and everyone has it in their backpack.
So we went out. Right in front of the hotel we see an example of the Italian's way of conflict resolution: one car had obviously crashed into another one. No one is hurt. The ladies from one car are just taking enthusiastically photos of the incident. We can admire their very, very high heels. By the way the ladies weren't completely sober, either.
We march up in the incredibly quiet city. Usually it is full of tourists. It's almost scary, but we're making good progress. On the way we meet a group of Americans. Also not sober and in party mood.
We continue to go up to the only public square in Florence where you have a beautiful view of the city. We even need flashlights on the way, but we'll be up in 15 minutes and it's still dark. We are hungry and thirsty, so we go out there and have breakfast.
In principle, you can also buy a coffee up here at the only open kiosk at this time. While this is not entirely legal, may be tolerated. Why that? Well, you have certainly seen the pictures of the boats in the news since 2015. That with many, many people from Africa. The people with sad, hopeless faces. Some of them end up in Italy and in order to live they run (actually illegal) sales kiosks or a kind of mobile street vending. The Italians call these people "Vocompra", which is actually a wrong pronunciation of the question "Do you want to buy?" in Italian. Some of my guests try to start a conversation with the seller. In English. He is so nice that they even buy something. The rest of the guests eat and look.
The city of Florence requests that no remains from take off brunches should be left on the streets. There is a very good waste collection system here. The garbage is disposed of in the huge containers provided. And you need to use them.
In the meantime it is getting lighter. Nobody speaks anymore. We just look and take pictures. Then it goes back to the hotel. The city is still very calm. Some guests go to the hotel to have breakfast with the rest of the group. The tourist which sleeped in the meantime are all well rested and in a good mood. We are tired but very happy. The planned daily routine continues as normal. However: You rarely may see a sunrise over Florence.
---
Virtual Tour in Florence
Here is your virtual tour in Florence
Even if you have to spend your holiday on the balcony as a result of Corona Virus, you can still experience beautiful virtual walks.
But if for you possible, please pay now for this virtual city walk.
Descrizione informativa di Vienna
inkl. MwSt.
Versandkostenfrei in folgende Länder: Albanien, Andorra, Belarus, Belgien, Bosnien und Herzegowina, Bulgarien, Österreich, Schweiz, Serbien und Montenegro, Zypern , Dänemark, Deutschland, Estland, Färöer, Finnland, Frankreich, Georgien, Gibraltar, Griechenland, Irland, Island, Italien, Kroatien, Lettland, Liechtenstein, Litauen, Luxemburg, Malta, Mazedonien, Monaco, Montenegro, Montserrat, Niederlande, Norwegen, Polen, Portugal, Republik Moldau, Rumänien, Russische Föderation, San Marino, Schweden, Slowakei, Slowenien, Spanien, Svalbard und Jan Mayen, Tschechische Republik, Türkei, Ukraine, Ungarn, Vatikanstadt, Vereinigtes Königreich Mehr anzeigen Weniger anzeigen
The Dome of Brunelleschi
The Dome
Brunelleschi's work is definitely worth a visit. Tickets and a fixed appointment must be reserved and payed in advance.
It is better to reserve and pay for your tickets online. Or you line up as early as possible. And there are always very long waiting times.
Gallery of Academy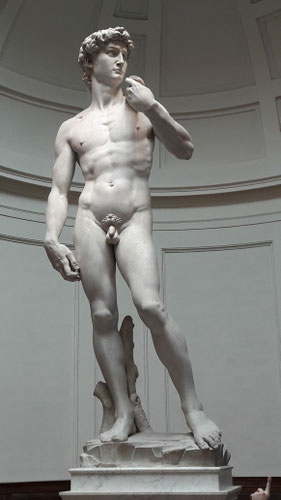 You simply have to see Florence. It might be better to take as much time as possible, because in Florence you can easily have a lot of fun sightseeing for a few months. For the most oft the tourists, unfortunately, this is not possible. In any case, it would be nice if you could at least see the following places in Florence: Galleria dell'Accademia Galleria degli Uffizi, Duomo. The Santa Croce and Santa Maria Novella Cathedrals and of course the Palazzo Vecchio, Palazzo Strozzi and Palazzo Pitti which are also very beautiful.
Walks to Giardino di Boboli, Forte di Belvedere and Giardino Bardini are more time-consuming.
On Via di Belvedere we can walk along the old city wall. Unfortunately, there is not enough time for most trips. But even then, you should at least not miss the panoramic view of Florence. Not only the sunrise is very impressive here, but also the view during the day or in the evening.
And another little tip: go on foot, don't use a car. You can get from one side to the other side of Florence within half an hour.
TIPS:
The water comes from Siena and is drinkable, but the pipes are all out of date and therefore it doesn't really taste good. You can always buy water, the shops are usually open on Sundays between 10 a.m. and 8 p.m.
Typical food: Steak Fiorentino (usually only half way through, except that you tell the waiter that you want the steak through well) is relatively expensive and time-consuming, because it is only served in the menu (associated with other courses). But it pays off.
Of course, I also know restaurants which are specialised for travel groups and offer lunch quickly and cheaply. If you need the adress, please just write me a mail.
When visiting museums and churches, it is recommended not to carry large items of luggage such as backpacks, and there are checks almost everywhere, similar to the airport.