The so-called marriage fountain now dominates the entire square on the Hoher Markt.
The fountain stands in the place of the gallows and was only completed under Karl VI. (the father of Maria Theresia) basically in the form we can see today.
The father of Karl VI., Leopold I., was very afraid that he will no longer see alive his first son Josef I. (which was also the designated heir to the throne) due to fighting during the War of the Spanish Succession.
So Leopold I. (1702) made a vow that he would build a monument to St. Joseph, his son's patron saint, should his son return from Landau alive and victorious.
The later emperor Joseph I., a very talented and capable personality, was successful in the War of the Spanish Succession and came back without remaining damages.
Leopold I. died shortly after (1705) and therefore Joseph had to built the fountain on this place himself
First the gallows and the pillory had to be removed, so no more executions were carried out here.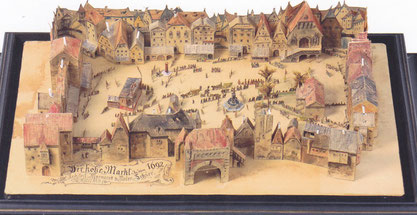 In addition, the old fountain house stood in the middle of the square, so this is why the monument was not built right in the middle.
In 1707 the monument was realised just as a wooden model.
This was designed by Joseph I. personally, but more probably together with the famous Fischer von Erlach which was actually his architecture teacher.
But unfortunately also Joseph I. died very young (in 1711) too.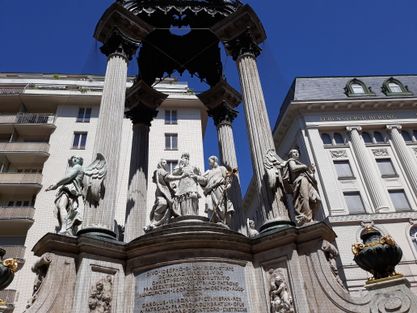 We see in a temple the people stand to celebrate the marriage of Joseph I. with Mary.
Antonio Corradini was the one who made the figures (Mary, Joseph, high priest) from ore.
On the right side of the pedestal is the allegorical figure of Humility, on the left that of Purity.
During his reign Karl (Charles) VI. had the wooden votive monument, which had  badly suffered from wind and weather, removed in 1725 and built a representative temple on Corinthian columns made of white marble and ore based on a drawing by Joseph Emanuel, the son of Johann Fischer von Erlach, to replace the original construction.
The architecture of this monument came from the court stone mason Elias Högl.
The bronze canopy is decorated with ornamental and vegetable motifs.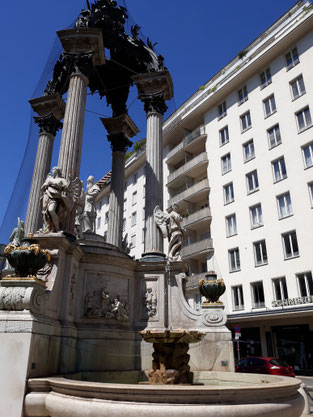 A fountain was also built on both sides.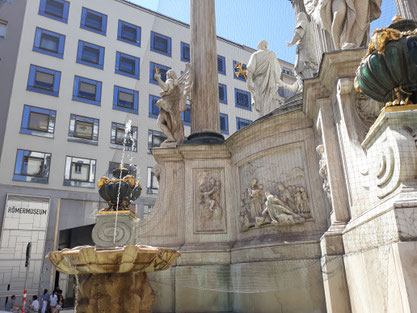 One of them replaced the fountain of the Hernals water pipeline, which was built in the 16th century and was last renewed in the 17th (1633).
The new fountain basin was created by Lorenzo Mattielli.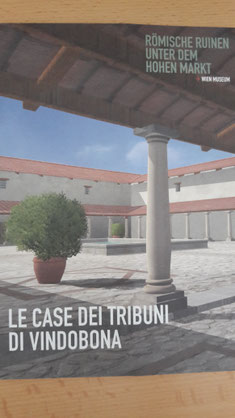 At the bottom you can see the face of the Roman Museum (Römermuseum) with the houses of the tribunes of Vindobona in the underground.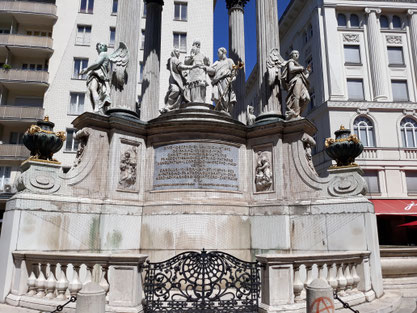 In 1848 the monument was damaged and the metal decorations stolen, and it was not restored until years later.